A New edition of the Radio Theory Handbook is now available.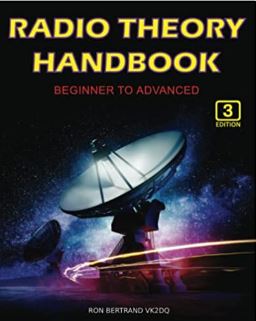 Ron Betrand has released the third edition of his excellent training resource which can be purchased directly from Amazon Sydney: https://www.amazon.com.au/dp/B0BNV2PC6F/
The third edition is fully aligned with the HAREC Standard and the new Advanced Syllabus . If you are new to Amateur Radio and are keen to get your licence at any level, this training resource is a fundamental resource in assisting you to achieve those goals.
You can save a few dollars and purchase it directly from RES. (preferred) by www.res.net.au
Radio Theory Handbook – Beginner to Advanced THIRD EDITION – Paperback – $45 delivered. RES Students log in and add course 20RESRTH.
Non students either enrol and add course "20RESRTH" or email admin@res.net.au
Amazon Sydney usually delivers to your door in 7-8 days.