GETTING YOUR LICENSE
Unlike CB Radio, gaining access to Amateur Radio frequencies and bands requires licencing with the Australian Communications and Media Authority (ACMA). There are three levels of licence that all require some study and, an exam.
Foundation Licence
The Foundation License is an excellent entry into the hobby. Once licenced, you will have access to six bands between HF and UHF enabling radio communications across our region, around Australia and around the World.
To obtain your Foundation license we recommend you purchase the 'Your Entry into Amateur Radio' Foundation manual either from the club for $29 (or direct from the WIA) and have a good read of the manual. You should also download and familiarise yourself with the Amateur Radio Operating Procedures (Licence Conditions Determination) which you can download here which document our operating regulations.
The Foundation License Assessment consists of a 25 question multiple choice paper exam and a hands-on practical assessment.  A pass is 70% correct answers. The Club is willing to assist you with further information and revision to help you sit for your exam.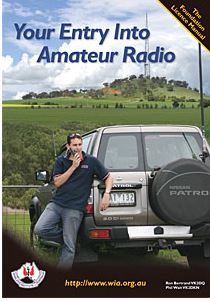 Standard and Advanced License
Standard and Advanced licences require three separate assessments:
Radio Theory (choose Standard or Advanced Level)
Regulations (same for both Standard and Advanced – only needs to be done once)
Practical Assessment (same assessment as the Foundation and only needs to be done once)
The Standard or Advanced Radio Theory License Assessment each consist of a 50 question multiple choice paper exam.  The Regulations Assessment is a 30 question multiple-choice paper consisting of questions relating to the ACMA LCDs.    A pass is 70% correct answers.  The hands-on Practical Assessment is not needed if you have already completed it as part of your Foundation License.
In practice, some people skip the Standard license and opt to go straight to Advanced by completing the Advanced Theory as there is a great deal of overlap in the standard to advanced theory questions. A very good learning source is an online course offered by the Radio & Electronics School (RES). You can find out more about RES here https://www.res.net.au/
Please feel free to contact us if you have any questions about licensing.
102 total views